mdm® Verso Reflex vapour barrier
NOTES
A three-layered, aluminium vapour barrier with a high reflective surface to prevent heat losses indoor. It is used in inhabited atticts as a perfect thermal wall protection from the inside. It effectively stops unwanted water vapour and wind. It can be used in ventilated and nonventilated roofs. It has an additional reinforcement improving durability.
MATERIAL
Polyethylene - characterized by a high flexibility which makes underlays durable and easy to install.
DIMENSIONS
lenght: 50 m; width: 1,5 m
QUANTITY PER PALLET
Palett dimensions [mm]: 1100x1560x1850
m²/palett: 9000 m² / 120 rol.
DOCUMENTS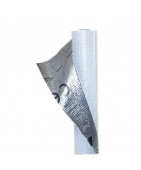 mdm® Verso Reflex vapour barrier