MEMBRANA MDM® VENTIA MAGNUM
NOTES
Top-class diff usion roofi ng membrane, four-layers, with a surface density of approx. 130 g / m2 and Sd rati o = 0.08 m. The additi onal fourth layer of reinforced PP mesh signifi cantly improves the resistance of our products to tensile and tearing which increases the safety of roofers(e.g. in the event of accidental standing on the membranes cover).

The core of the membrane is a functi onal fi lm made of thermoplasti c polyurethane - DAXALL®, which is characterized by very high resistance to harmful eff ects of UV rays (acceptable exposure up to 6 months) and the eff ect of extremely high temperatures (up to 120°C). It provides the membrane with elasti city, thanks to which it adheres perfectly to the substrate and is easily moldable in roof valleys and corners.

Can be used on roofs with full boarding.

mdm® Ventia Magnum 310 available on request.


MATERIAL
polipropylen/polyurethane with reinforcement mesh.
DIMENSIONS
Roll dimensions: 50m x 1,5m = 75 m2
QUANTITY PER PALLET
Palett dimensions: 1540x1170x1300 mm
m
2
/pallet: 2025 m²/27 rol.
DOCUMENTS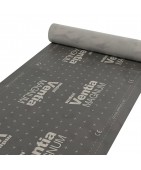 MEMBRANA MDM® VENTIA MAGNUM