MEMBRANA MDM® VENTIA N TITANIUM PLUS – 25TH ANNIVERSARY
OPIS
NEW IN THE OFFER mdm®NT • multicolored print• the unique color of the non-woven fabric• modern packaging in shrink filmA difussive roof underlay of the highest quality, three-layered, weight 190g/m2 and thickness of 750 μm. It represents very high mechanical resistance and water vapour permeability (Sd = 0,02 m). It can be used both directly on thermal insulation or laid on a full boarding. It is used for various types of roofing: shingles, concrete and ceramic tiles, metal sheets, sheet metal tiles. mdm® Ventia Titanium Plus 25th anniversary a premium class product! Protects building against adverse weather conditions and enables free water vapour diffusion. due to high water vapour permeability this mdm underlay can be installed directly on the thermal insulation layer. Made of polypropylene fiber joined with polypropylene, high breathable functional layer with micropores.The functional layer was developed in mdm®NT laboratories. It ensures the highest durability of the underlay and allows us to match the properties of our product to the individual requirements of every customer.mdm® Ventia Titanium Plus 25th anniversary brathable underlay is also available in version with glue stripes, for roofs with smaller angle of inclination, in order to reduce wind penetration and air getaway from the insulation layer.
MATERIAL
Polypropylene nonwovens laminated with microporous polypropylene film


DIMENSIONS
lenght: 50 m
width: 1,5 m


QUANTITY PER PALLET
Palett dimensions [mm]: 1540x1170x1300
m²/palett: 2475 m² / 33 rol.


DOCUMENTS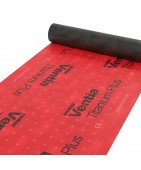 MEMBRANA MDM® VENTIA N TITANIUM PLUS – 25TH ANNIVERSARY