GRZEBIEŃ OKAPOWY Z KRATKĄ WENTYLACYJNĄ S
NOTES
Used to prevent rodents, birds and large insects from getting beneath the roof tiles. Additionally it has a ventilation function.

Product features:
- Combs are connected with each other by flexible battens - which is important in the case of high profile roofing.
- At each end of the product, there are special locks that allow for stable connection of the product in longer sections.
- Special edging have been designed on the underside of the grille – they simplify the installation of the grille directly on the rafter-mounted gutter hooks.
MATERIAL
Polypropylene dyed in mass.
DIMENSIONS
Comb length: 1000 mm
Comb height: 60 mm
Grille height: 25 mm
QUANTITY PER PALLET
Quantity per pallet 80 x 120 cm
- 1500 pcs (50 packs)
DOCUMENTS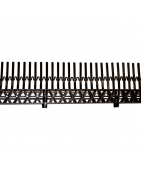 GRZEBIEŃ OKAPOWY Z KRATKĄ WENTYLACYJNĄ S